BiG-i is a national institute, established in 2001, for the commemoration of the United Nations Decade of Disabled Persons (1983 - 1992). It reached its 10th anniversary on October 2011.
The inspection of public operations by the Government Revitalization Unit, which was conducted in November 2009, required BiG-i to reform its projects and management.
The government held a meeting for investigation of the comprehensive vision for the International Communication Center for Persons with Disabilities (BiG-i) in response to this requirement, and to take action in relation to changes in the domestic and foreign situation surrounding persons with disabilities.
At this meeting, the basic idea of how to conduct its projects and how to entrust its operations were examined.
The meeting decided to entrust the operation and management of BiG-i to the private sector.
BiG-i cooperative, which consists of three parties, applied for the commission to operate BiG-i. The parties involved are: Osaka Persons with Disabilities Independence Support Association, Daito Biso Co. Ltd., and NICE Co. Ltd. BiG-i cooperative was commissioned by the government to operate and manage BiG-i, and it has served in this capacity since April 2011.
From now on, BiG-i will strive to realize the "new basic ideas offered" below, and to conduct projects based on these ideas.
The new basic ideas offered
(1) Persons with disabilities play the leading role.
(2) BiG-i promotes the social participation by persons with disabilities through art and cultural activities, and international communication.
(3) BiG-i tries to be the institute that many people feel close to.
Projects based on the ideas of the institute
(Outline)

1 Development of project planning and operation, based on the ideas of BiG-i, and enhancement of the image of the facility
2 Participation in project planning by persons with disabilities, and promotion of projects that facilitate communication

(1) International communication ·International cooperation
(2) Transmission of information on art and culture by persons with disabilities
(3) Communication by individuals with all kinds and degrees of disabilities
(4) Logistics support in large-scale disasters

"BiG-i" is the initials of the five words below.

Big I (myself)
Big Independence
Big Information
Big Intercommunication
And International
Independence
Persons with disabilities not only receive services but also play a leading role in every occasion.
Information
We offer information for persons with disabilities and information on culture supplied by persons with disabilities.
Intercommunication
Persons with disabilities on their own perform activities related to international exchanges, art and culture, and engage in social participation.
International
As we are located near Kansai International Airport, we have many visitors from overseas and thus endeavor to facilitate mutual understanding.


Our symbol, as well as our nickname, represents the wish for "independence of persons with disabilities and facilitation of exchanges beyond international borders". The five motifs represent the five continents.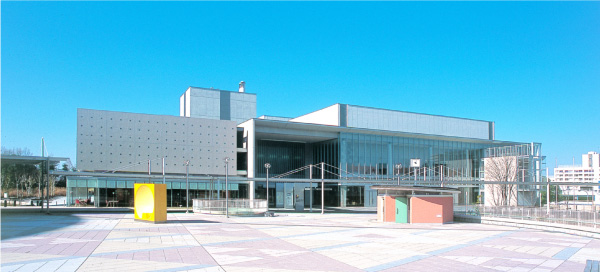 Established by the Ministry of Health, Labour and Welfare
Operated by BiG-i cooperative
Location 1-8-1 Chayamadai, Minami-ku, Sakai-shi, Osaka-fu
Structure: Reinforced concrete structure
Dimensions of ground-floor area:

approximately 8,000 square meters

Total floor area:

approximately 12,000 square meters
Structure of building
Multipurpose hall:

1,500 audience seats maximum; 1,000 seats when combining wheelchair spaces and audience seats (300 wheelchair spaces maximum)

Meeting rooms:

Large, Medium, Small

Guest rooms:

35 rooms (all rooms with bathrooms, 26 Western style rooms, 6 Japanese style rooms, 2 Japanese/Western style rooms, 1 room for severely disabled people

Restaurant:

50 seats

Parking:

41 cars indoors, 27 cars outdoors

Bicycle -parking area:

50 bicycles outdoors
Business hours
9:00 – 21:00 (Reception)
Restaurant 7:00 – 21:00(Last orders 20:30)
Guest rooms: Check in 15:00; Check out 11:00 – Open all year round